Now on koinspections.com, we have added a four-question form for FORTIFIED Re-designation Requests. All we ask for is…
Your name
Address (not required)
Phone Number
Email Address
Even if you are unsure of if or when your home needs a renewal inspection for its FORTIFIED certificate, you can fill out this quick form and a member of our team at Knockout Inspections will follow up with you to verify your information and check the status of your home's designation.
Access to this new form has been added to the website in a few different places. Most notably, it has been added to a section on our homepage. It can also be found through our main navigation menu under the FORTIFIED item and labeled as "Redesignations."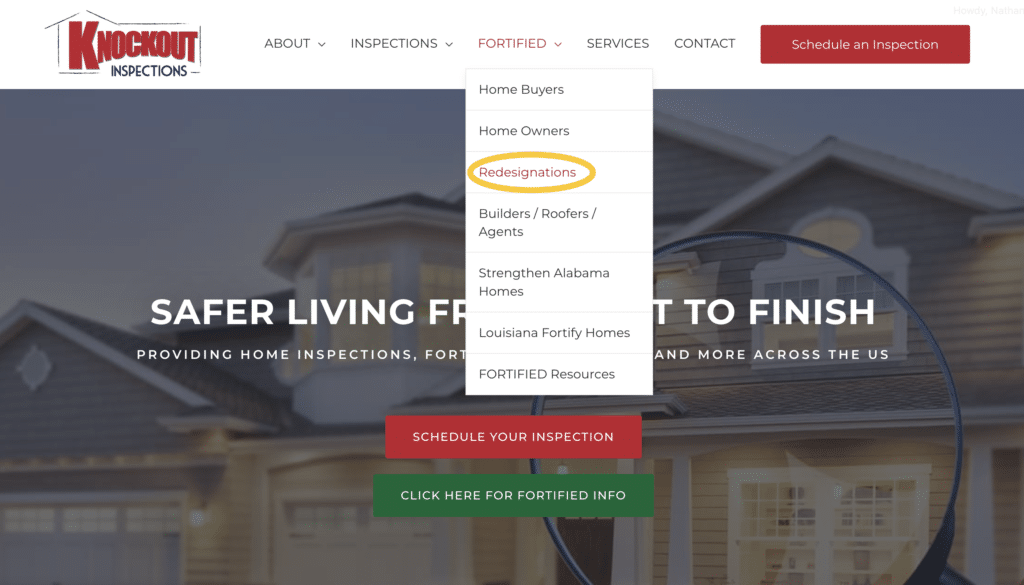 After completing and submitting the FORTIFIED Redesignation Request Form, our staff will contact you to discuss your home's FORTIFIED designation status.
If re-designation is needed, our team will schedule a time for one of our in-house licensed and certified FORTIFIED Evaluators to come by your property for a renewal inspection. This inspection only requires an exterior evaluation of your home, mainly focusing on the roof area. Photos will be needed for documentation. The FORTIFIED Evaluator never has to step foot inside your home, so your presence is not required should you feel comfortable with us coming by while you are not home. 
Additionally, Knockout only charges $149 for this service which will help you continue your significant insurance discounts over the next five years. Check out this quick video for further explanations on why you should renew your FORTIFIED certificate.
If your FORTIFIED Home is in need of re-designation, or if you are not sure when your home's FORTIFIED certificate expires, click here to fill out our Redesignation Request Form today. Our team at Knockout Inspections is ready to help you continue on in your journey of safer living.