FORTIFIED RESOURCES
— RESOURCES BY STATE —
Alabama
mississippi
louisiana
ROOFERS'
CHECKLISTS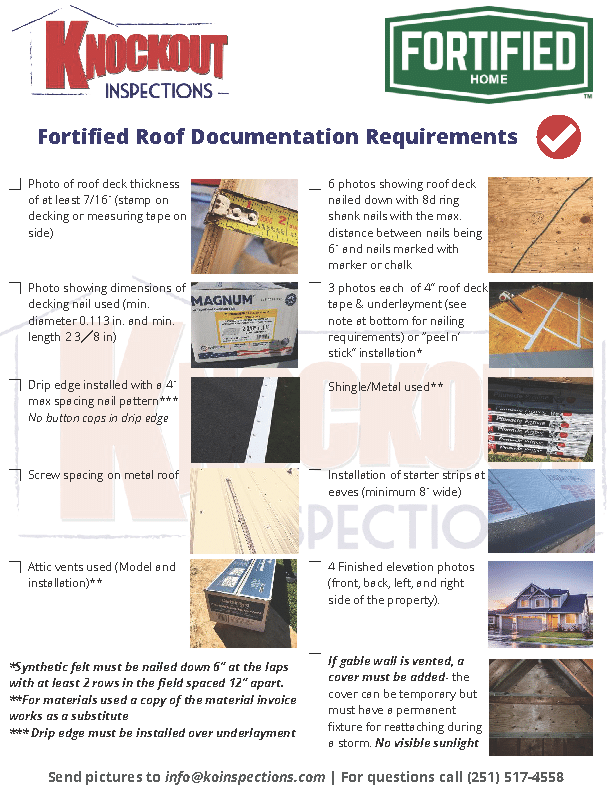 Know exactly what it takes to give your clients a certified roof. This resource is available in both English and Spanish.
FREE
DOWNLOADS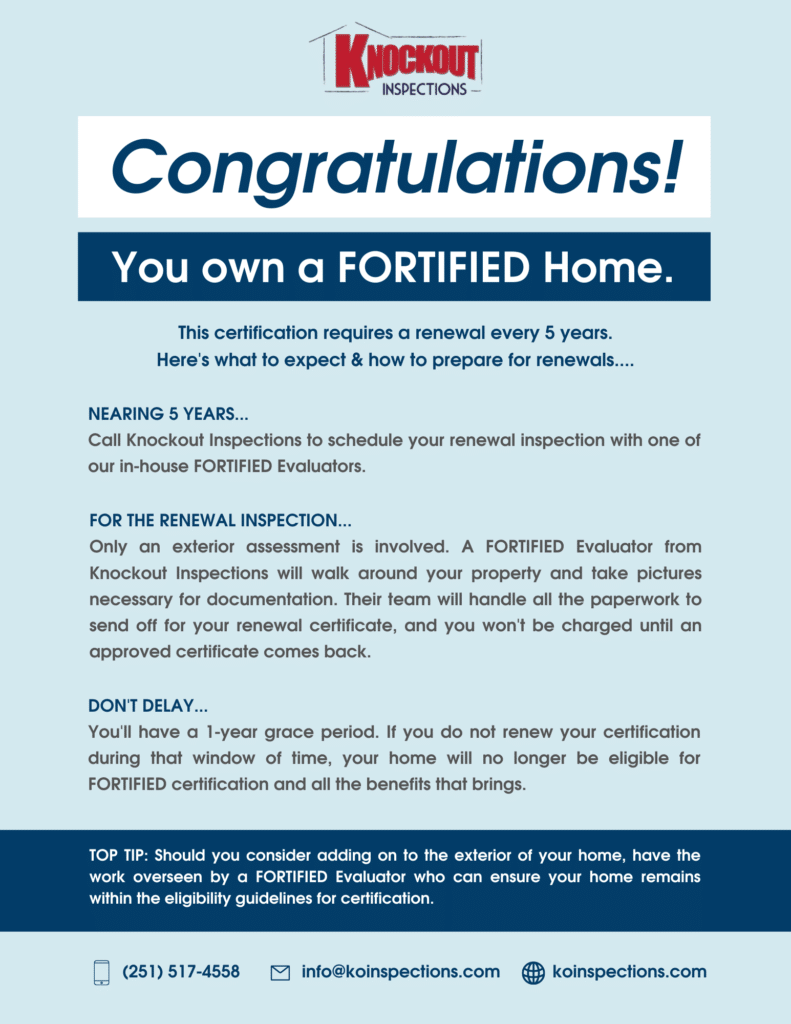 Be the hero for your clients by providing them with all the details they need on FORTIFIED Homes.
BLOG
ARTICLES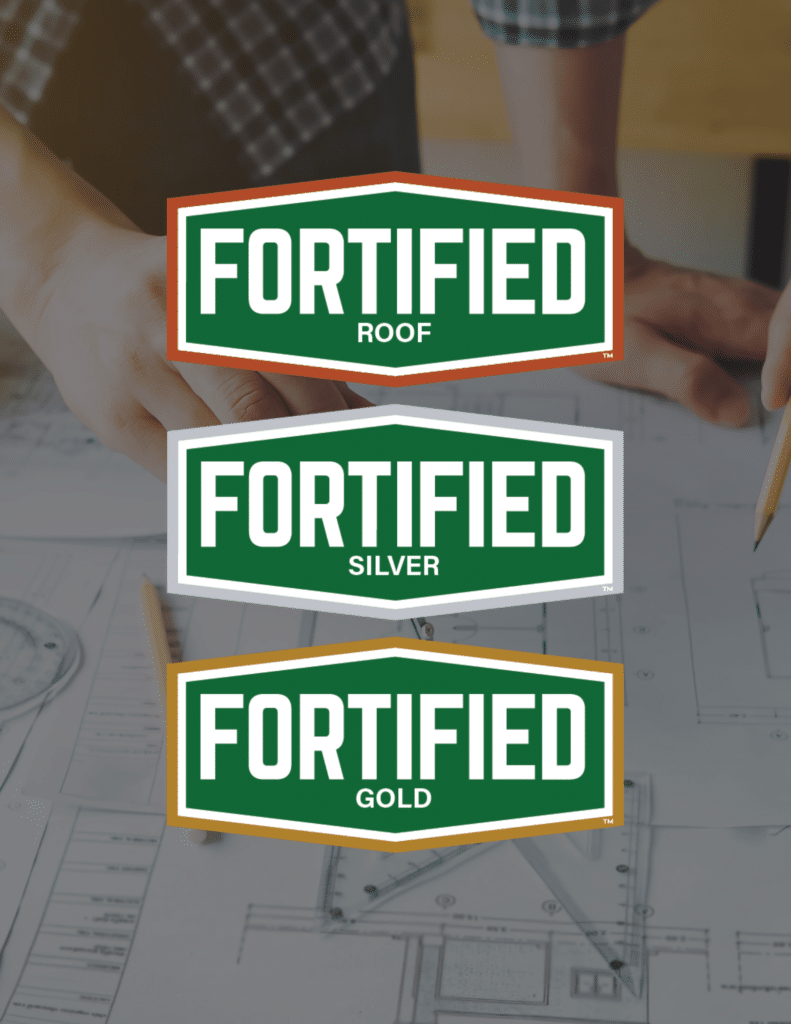 Learn about FORTIFIED, requirements, renewals, and how Knockout is your partner in it all.
frequently asked questions
What is FORTIFIED?
FORTIFIED is a set of superior construction standards that go above and beyond standard building codes to strengthen residential and commercial buildings against specific weather risks such as high winds, hail, and hurricanes. FORTIFIED standards are based on scientific research from the field and the IBHS Research Center.
Why FORTIFIED
FORTIFIED strengthens homes and businesses against severe weather, reducing the risk of property damage and financial loss.
What is FORTIFIED Roof?
This is the entry-level FORTIFIED designation which was modified to focus more directly on strengthening roofs, effective April 1, 2019.
FORTIFIED Bronze™ is now known as FORTIFIED Roof™
How long does my FORTIFIED Home designation last?
5 calendar years. At the end of that period, a re-designation inspection will be required to maintain the home or business's current designation level. If there have been no substantial changes, the designation will be re-issued for another 5-year period.
How do I know when my designation expires?
The expiration date is printed on your FORTIFIED Home Designation certificate. As a courtesy, IBHS will mail a notification to the designated address 90 days prior to the expiration date.
How do I maintain my designation or renew an expired designation?
The first step is to engage an Evaluator. The name of the Evaluator who performed the initial evaluation of the home will be provided on the expiration notice if they are currently active. While IBHS recommends hiring an Evaluator who may be familiar with your home, it may not always be possible and it is not a requirement. Any certified Evaluator may perform a re-designation inspection. Contact Knockout Inspections at 251-517-4558 for assistance renewing your certificate.
How long does the FORTIFIED re-designation last?
FORTIFIED re-designation is valid for another 5 years.
What are the advantages of renewing my FORTIFIED designation?
In addition to the peace of mind you'll enjoy knowing that your home continues to be resilient during tropical storm events, you may be able to take advantage of insurance discounts if offered by your insurer.
What does a FORTIFIED Home Evaluator do?
FORTIFIED Home Evaluators work with homeowners and builders throughout the construction of new homes and the retrofitting of existing homes to ensure:
A home has the appropriate resilience upgrades relevant the hazards where the home is located.
Critical construction details are verified at different building and retrofitting stages.
Key severe storm system upgrades in the home are designed and installed to deliver a stronger, safer more durable home.
Do I have to work with a FORTIFIED roofer/contractor?
No, you can choose any roofer/contractor to complete your building project. But for a complete list of those roofers/contractors who have completed FORTIFIED Wise™–Roofer training, please visit here and select Roofers from the dropdown list.
FORTIFIED-trained roofers will be more adept at installing a FORTIFIED roof and familiar with the designation process and how to work with a FORTIFIED Home Evaluator.
How do I find a list of FORTIFIED roofers/contractors to choose from?
Visit https://fortified.archtest.com/listing for a complete list of all FORTIFIED Home service providers, including those roofers/contractors who have completed FORTIFIED Wise training, passed an exam and provided all necessary background information.
get fortified
Call us today to discuss how we can help get your home FORTIFIED
or give us a call at
251-517-4558
Follow us on social media